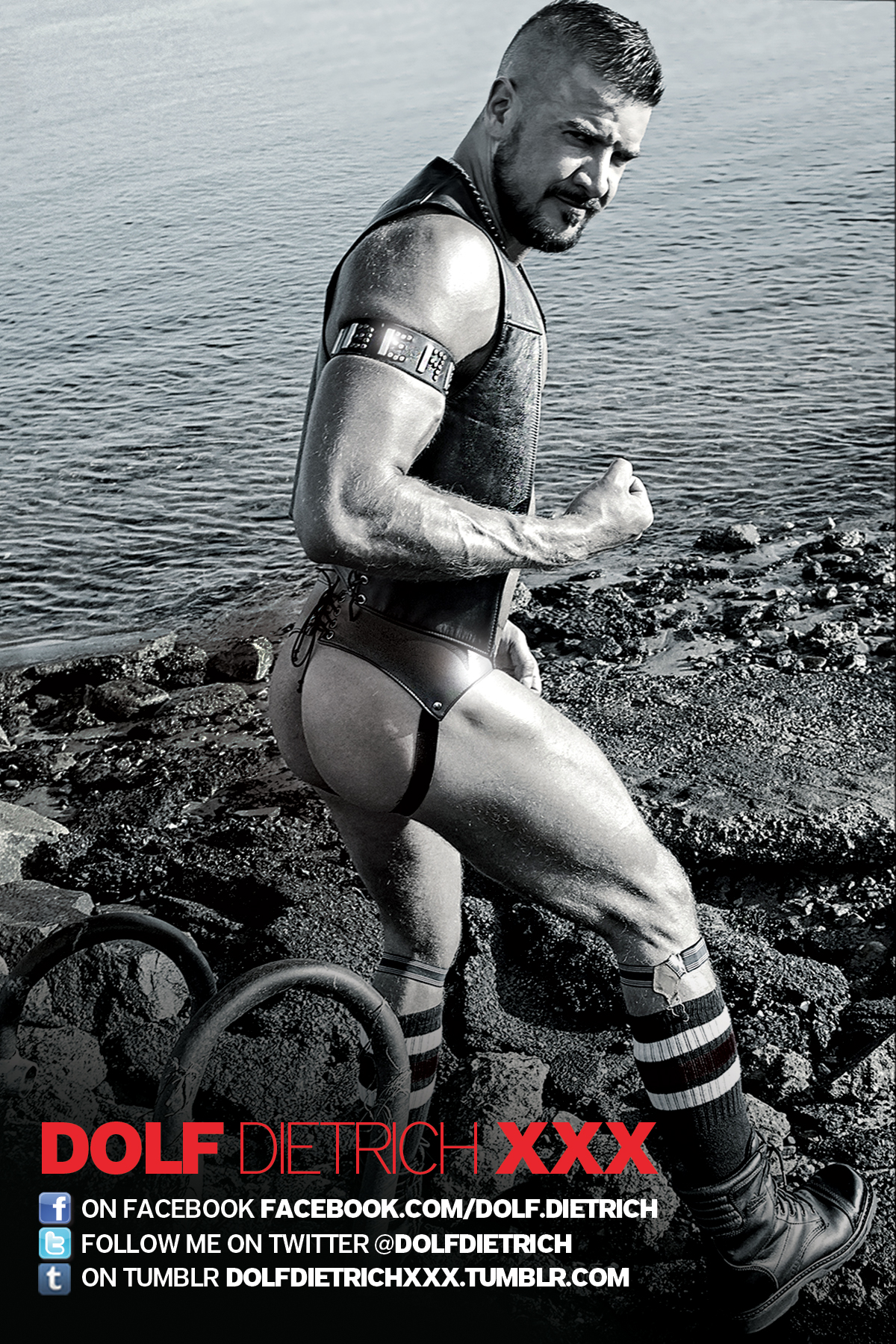 In 2013 I had the pleasure of chatting with porn stud Dolf Dietrich. I figured it was time that we catch up with him and see what he has been up too in the past year.
Raven's Eden: So far 2014 has been a pretty good year for you. You won 4 Raven's Eden Awards including "Star of the Year" and "Best Ass". You also had some scenes with Treasure Island Media released. How are you going to top that in 2015?
Dolf Dietrich: Yes it has! The 4 Raven's Eden Awards really meant a lot to me as it was a fan-based award system, and I have the best fans in the world! I am VERY excited about upcoming projects in 2015.. My boyfriend Drew Sebastian and I are traveling to London in November for a week to shoot several scenes for Treasure Island Media directed by Liam Cole. We will also be doing a Live Sex Show gig at the Hoist on November 16th. Look for more Live Sex shows across the globe in 2015; we just did one at the Bourbon Pub in New Orleans for Southern Decadence, we were the first duo to be billed as a live XXX act for that event and it was SUPER hot!
Raven's Eden: You got your start in the Adult entertainment industry doing cam shows. Sometimes involving LARGE toys. Next natural step is fisting. Will we be seeing any Dolf fisting videos in the near future.
Dolf Dietrich: Funny you should ask! I have spent a few years practicing with big toys on webcam.. it has really trained my.. well, award winning ass to take VERY large cocks! But, yes, I am ready and excited to get into the fisting arena.. Drew and I were just talking about it the other day.. He is going to help train my hole to take his big fist before I do it on camera.. I can't WAIT to practice with him! Yes, look for Dolf Dietrich fisting videos in 2015 as a fisting bottom AND fisting top.
Raven's Eden: You have some of the most loyal fans (They are the reason you won 4 Raven's Eden Awards). What would you like to say to all of your fans out there?
Dolf Dietrich: Honestly, I really do love my fans and appreciated every day how I could have NEVER reached the level of success I have achieved without them. I saw an interview with the late great Joan Rivers the other day where she said something to the effect of it only takes a moment to say hello and thank you to a fan, and her attitude towards fame and fans was just brilliant. It is my goal with my videos and photos to bring people a little joy and sexiness to their day.. get their heart racing and the blood pumping to their cocks.. well, not just cocks, I have a HUGE female fan base to, I love it! And I also can't believe how much fan mail I get from EVERY corner of the globe. It's very inspiring to know that my out, open and free sexual attitude is bringing people pleasure in countries where they are not free to be themselves.
Raven's Eden: Time for some rapid fire questions. I will give you a question and answer with what you prefer as quickly as you can.
Raven's Eden: Top Or Bottom?
Dolf Dietrich: Really 50/50! I'll be topping for most of my London T.I.M. shoots.
Raven's Eden: Bareback Or Condom?
Dolf Dietrich: Skin on Skin.
Raven's Eden: Hairy or Smooth?
Dolf Dietrich: Not fair! I love men of all kinds!
Raven's Eden: Vanilla Or kinky?
Dolf Dietrich: OK I have a definitive answer for this one. OINK, fucking OINK!
Raven's Eden: Oral or Anal?
Dolf Dietrich: Ass to mouth.. so that's both!
Raven's Eden: Jocks or Briefs?
Dolf Dietrich: Definitely Jock straps.. while fucking.
Raven's Eden: Who has been your favorite co-star so far? Who would you like to work with in the future?
Dolf Dietrich: Oh, this one is EASY. I met my boyfriend, the Super Sexy 10x7 T.I.M. Exclusive Drew Sebastian, on set when we were cast together in San Francisco for a T.I.M. scene. It was June 12th (My birthday) and I was VERY excited I was getting Drew Sebastian's load for my birthday present. The scene was BLAZING hot (release date coming soon) and we immediately knew our chemistry was real and intense; we've been dating ever since, having the HOTTEST sex that I have EVER had in my life, and really, he's just the greatest boyfriend I could have ever hoped for. There are a bunch of guys I am into working with.. the shortlist is Derek Parker, Rocco Steele, Morgan Black, Antonio Biaggi, Drew Sumrock, Armond Rizzo.. (I REALLY want to fuck Armond, he's a smooth, tight little bottom and it turns me on that he is only 5'4'' and I am 6'5'' that would be a HOT scene, I am working on making that happen.)
Raven's Eden: You are known as a muscle stud now, But that wasn't always the case. What was your biggest struggle to get the muscular body you have now.
Dolf Dietrich: Thank you! Yes, I am quite open about the fact that I was born with a condition called Pectus Excavatum (concave chest). It's more of an aesthetic condition, however it did cause some breathing issues.. I was able to convince the insurance company to cover the 50k surgery to fix it when I was 34 (most people with it have it fixed as kids). After that, I started going to the gym with a vengeance, and started getting tattooed. I worked for years to create the body that I have now and I am by no means finished! I am BIG on fitness and giving people inspiration to address issues they do not like about themselves and to have a game plan to work towards improving those issues. My favorite fan mail is to hear from people that have struggled with their body image and have told me that I have inspired them to take action.
Raven's Eden: What is something about you that most of your fans would be surprised to learn.
Dolf Dietrich: Most people think I am German. I am actually French Canadian. Dolf Dietrich is a stage name I created; 'Dolf' is an homage to Dolph Lundgrin (who I used to jerk off to relentlessly in Rocky 4), and 'Dietrich' is actually my mother's Maiden name (her mother was Hungarian, there is also some Welsh in there so I guess you could see I am Well-Hung! LOL that one never gets old.)
Raven's Eden: Final question: Getting away from your life in the adult entertainment industry. What are some of your hobbies,interests,favorite things to do.
Dolf Dietrich: I own a business specializing in marketing and branding design, it is my second passion next to porn.. I lived in NYC for years where I worked in publishing as an art director for magazines like Rolling Stone, US Weekly and OK!. Now I live far outside the city in a beautiful little LGBT vacation destination hamlet and work as the art director of marketing for the Tourism Board.
Thank you Dolf Dietrich for taking the time to chat with us. Good luck for the rest of 2014 and we will be looking for those 2015 Raven's Eden Awards nominations (I am sure you will have a ton again this year). Be sure to Follow Dolf on Facebook and Twitter.
Enjoy a picture of PISS PIG DOLF